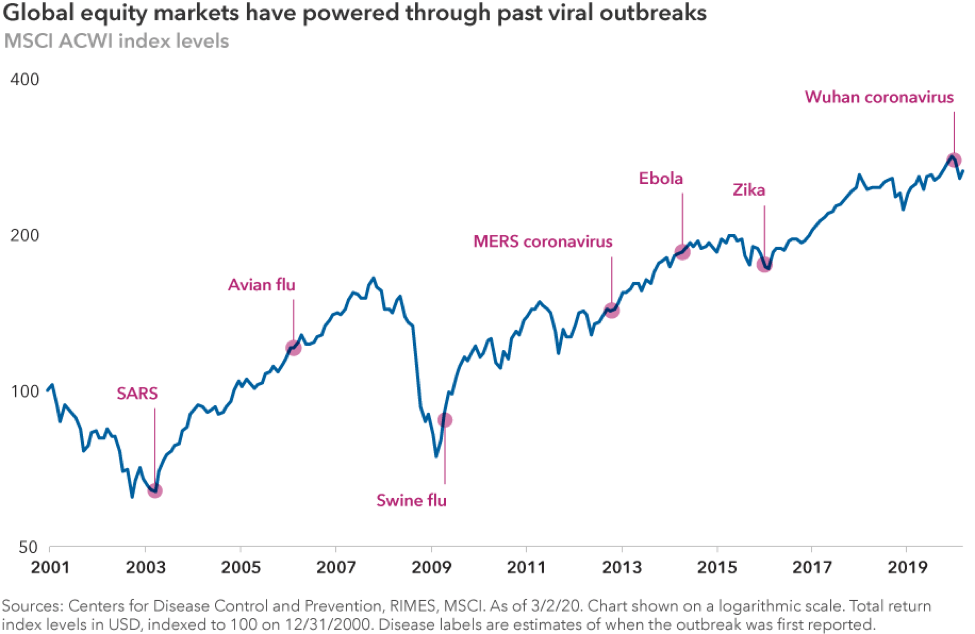 Trying to Make Sense of this Volatility
News & Commentary
By: Jude McDonough, CFP® AIF®
Mar 12, 2020
Well, if we can sum up the past couple of weeks in one word, "Wow" would probably be appropriate. Not necessarily a good "wow". It is more of one with shock and awe related to the moves we've been experiencing in the markets. 1000 point moves in the Dow have become a common occurrence. I've even found myself rooting to only be down 500 points on some days. It has certainly been stressful for investors as they work to figure out what the market is going to do and where it will stabilize. Unfortunately, nobody knows.
To put things as simply as possible, think of the stock market as a forward-looking vehicle that is priced based on future earnings and economic conditions. Some say it looks 6-9 months ahead. Others say it looks out as far as a year or two. Regardless of any of that, we are witnessing a very confused market that is trying to figure out how to price in the impact of a newly crowned global pandemic coupled with a price war in the oil markets that came out of left field last weekend. To make matters worse, we are watching this all unfold under a microscope thanks to the 24/7 news cycle we live in.
The spread of Coronavirus is a real issue and the impact is starting to take course. We don't want to discount the severity of the virus because we are not medical experts. As financial experts, we like to look at charts and analyze data. The chart below was worth sharing with you to give you an idea of how the markets reacted to past viruses.
---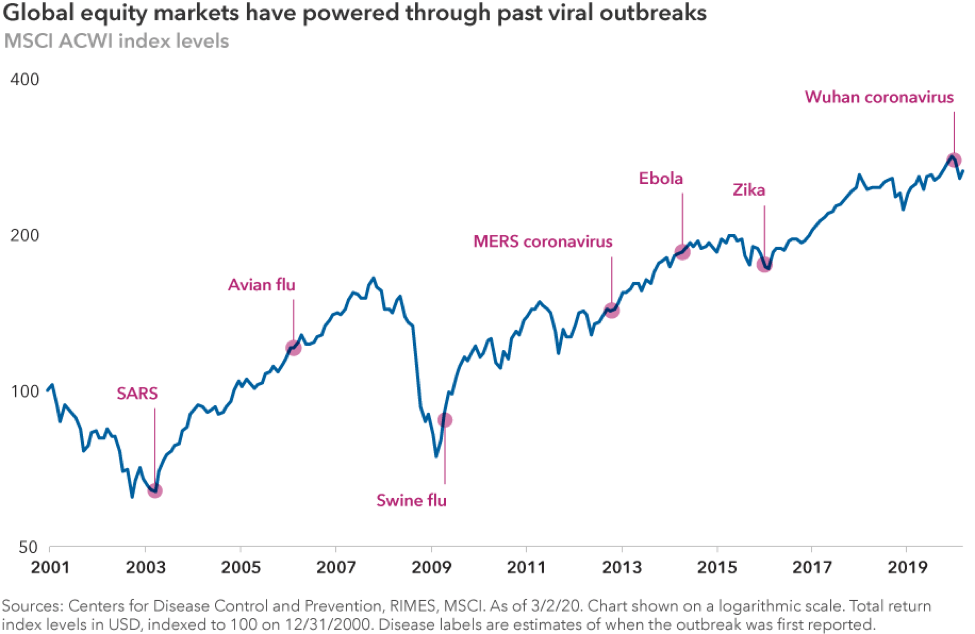 ---
As you can see, the market rebounded sharply from the more severe drops and basically plowed through the less severe ones.  Nobody can predict what will happen this time around and we are not about to attempt to do so.  Large public events continue to be canceled, companies are implementing work from home policies, business travel is being suspended and states are taking extreme measures to mitigate the spread of the virus.  This is all going to have a real impact on our economy that is very difficult to quantify at this point.  The high level of uncertainty related to all of this is creating extreme levels of volatility in the markets.    We know that times like this are very difficult and nerve racking.  There is no telling when it will end.  The good news is that the forward-looking nature of the market leads to rebounds before the actual environment we are living in feels right.  In the meantime, we continue to urge you to focus on the long term and try to take advantage of opportunities that are in your control.
The content is developed from sources believed to be providing accurate information. The information in this material is not intended as tax or legal advice. It may not be used for the purpose of avoiding any federal tax penalties. Please consult legal or tax professionals for specific information regarding your individual situation. The opinions expressed and material provided are for general information. Chart provided by Capital Group.
The views and opinions expressed herein are those of the speaker or writer and do not necessarily reflect the views of Alliance Wealth Advisors, LLC. All opinions are subject to change without notice. Neither the information provided nor any opinion expressed constitutes a solicitation for the purchase or sale of any security. Past performance is no guarantee of future results. Diversification does not guarantee a profit or protect against loss in a declining financial market.