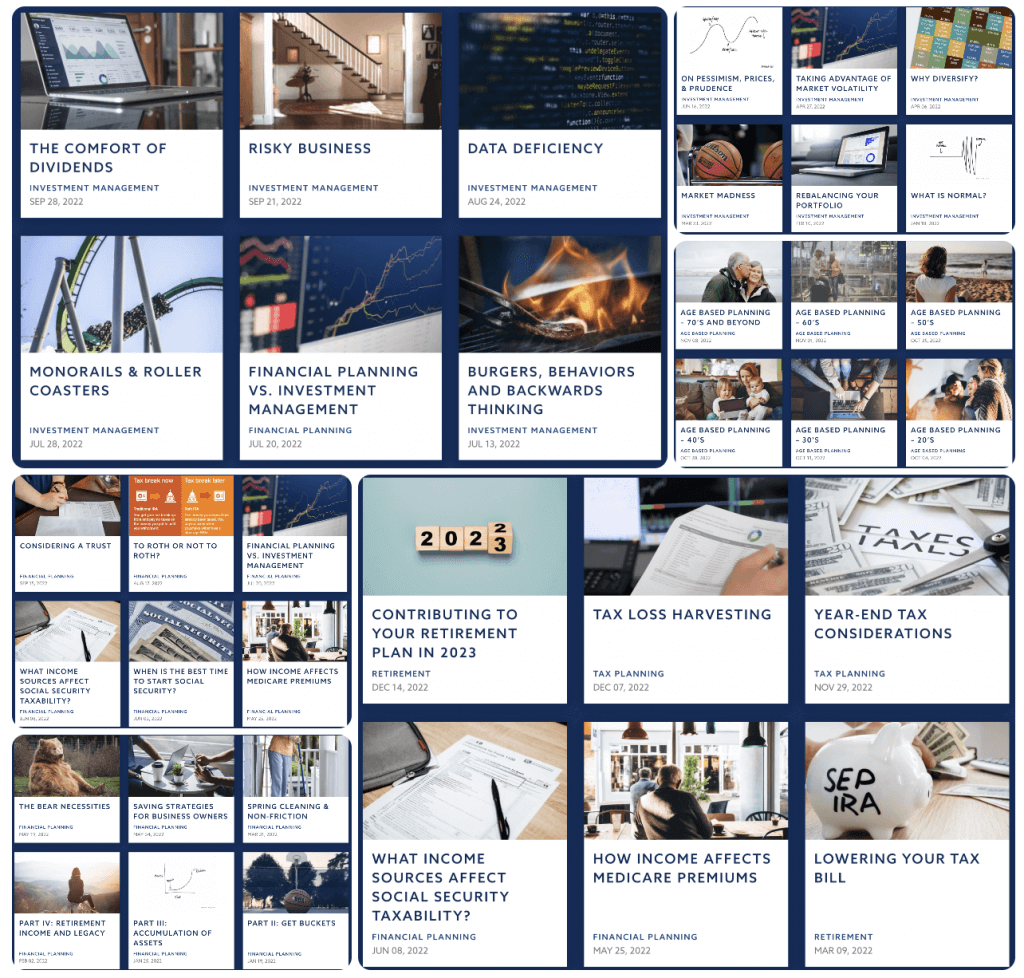 It is crazy to think the calendar will be changing over this weekend. In what has been a crazy year, our team wanted to take the time to reflect on 2022 before looking ahead. What a year it has been. We have written about the topics and issues facing investors this year extensively, publishing over 50 articles for our clients and readers (please bare with us on the amount of hyperlinks to the various articles. We know there are a lot of them). As an independent firm, we take pride in the fact that our team writes all the pieces we publish ourselves. Every single one. We don't rely on others to do our homework, and we always try to communicate to be understood. Much of what is written about finance and investing is unnecessarily complex or downright boring. Our goal is to discuss things our clients are asking about in a fun and engaging way to help people make better decisions with their money. Anyway, here we go…
When it comes to markets and the economy, 2022 has been one heck of a year for investors. From inflation to the war in Ukraine, to rising interest rates and stocks selling off, there have been a lot of factors to take into consideration when making financial decisions this year. Investing is never easy, but it's fair to say this was one of the tougher years in recent memory. The truth is though every year has its share of craziness in one form or another. Gone are the excesses and easy money of 2020 and 2021, and investors face another phase of the post-pandemic world. The economic landscape is full of uncertainty. We navigated 2022 by focusing on our disciplined investment process and working closely with our external partners. Everything we do is centered around making good decisions in the best long-term interests of our clients. While context and a long-term perspective can be helpful, it certainly doesn't remove the unease and anxiety that comes with a bear market. We know that the most important part of our job is listening to our clients. As we look back on this year and look forward to next, we are incredibly grateful and appreciative of our clients' continued trust in our team.
2022 was a busy year when it comes to Financial Planning. Now more than ever, we are all inundated with infinite amounts of information. Much of it is useless. There is more noise than ever from the financial media, and that is especially true in a down year like this one. In launching our Center for Investor Education earlier this year, our aim is to help people sort through it. The goal of the Center for Investor Education is to help people and organizations have more productive discussions about personal finance, both in the classroom and at the kitchen table. Whether it is discussions about generational wealth and values among family members, technical questions about which type of IRA makes the most sense, or younger people trying to learn the foundations, our industry must do a better job. We intend to lead the way. We want to provide resources to help people have better discussions and sort through the noise regardless of what stage in life they are in. We are excited to build on this initiative in 2023.
2022 was also a busy when it came to our firm's involvement in the community. Whether it is the articles we publish each week, our podcast, or speaking engagements and events, we try to create content that helps facilitate more productive financial conversations. However, we also want to use our platform to highlight stories of people and organizations in our area doing great things we could all learn from. Our team is made up people born and raised in Northeastern Pennsylvania, and we believe we all have a role to play in making it better.
As we look ahead to 2023, we remain hopeful and optimistic about what the future holds. As advisors, our job is to focus on what we can control and never stop looking for ways to learn and improve. As business owners, our job is to ensure our firm's interests remain completely aligned with the interests of our clients. We know that if we can continue to do these things we will be able to add value for our clients regardless of what comes next. On behalf of the entire team at Alliance, we wish you a happy, healthy, and prosperous New Year. See you in 2023!
---
---